Why dõTERRA?
Every one of us within Ora Leaders have our own unique WHY (which can read about over here).
However, what we all share, is a common love for the quality of the dōTERRA products and respect for the way the company sources it essential oils.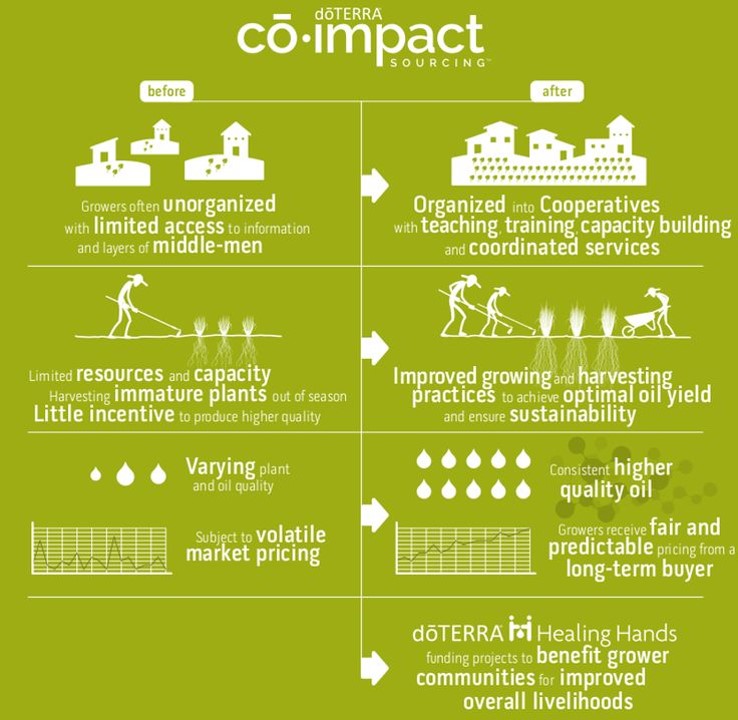 The co-impact sourcing model is world class and ensures that we are getting the best quality products possible, because they are sourced where the plants naturally thrive and that the farming practices used are also ethical, sustainable and support the local farmers.
Here's a short video explaining a little more about how this system works. You can also find out more about dōTERRA here.
CPTG Quality Testing
Quality is key when you are working with essential oils and dōTERRA's products are second to none!
Without an accepted standard for essential oil quality, dōTERRA created its own testing process, calling it CPTG Certified Pure Therapeutic Grade®. The CPTG process certifies that there are no added fillers, synthetic ingredients, or harmful contaminants in their essential oils that would reduce their efficacy.
dōTERRA even goes a step further, putting all their products and the packaging through a battery of tests to ensure a long and effective shelf-life. This protocol ensures potency, purity, and consistency batch to batch.
You can read more about the CPTG Testing Process Here
The Healing Hands Foundation
We all want to make a difference in the world and it is a privilege to work with a company that is actively working towards doing this.
The dōTERRA Healing Hands Foundation seeks to bring healing and hope to the world, for lives free of disease and poverty, and to ultimately empower impoverished communities with the tools needed to become self-reliant.
From funding projects to help rescue children from sex slavery, to the provision of micro loans to small businesses in developing countries. The charity work that dōTERRA is doing around the globe is truly heart exploding good!
Learn more about additional humanitarian projects
One Global Family
Our oils are available across 128 countries around the world. Plus dōTERRA sources over 120 essential oils from over 45 countries, more than half of which are considered developing countries.
Even though we all come from different countries, cultures, religions, we are more unified than ever before and have truly become one global family.