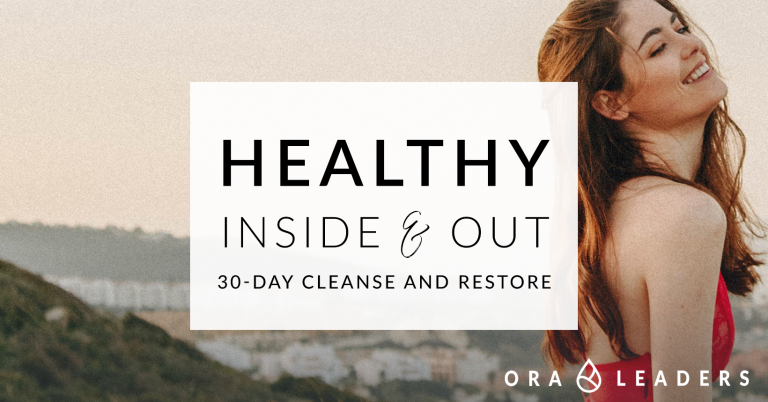 Healthy Inside and Out
A 30-Day Cleanse and Restore Program
Are you finding it hard to wake up in the mornings, suffer from regular brain fog, sugar cravings, skin eruptions, moodiness, bloating, joint discomfort, inability to lose weight, food sensitivities,
or simply an overall sense of feeling lacklustre and blah your body may be ready for a reset and a cleanse.
As a member of Ora Leaders I am thrilled to offer you this 30 days of cleanse and restore. You get so much more then just a cleanse - it is amazing the freebies that are avalible when you sign up!
>> Join our Healthy Inside and Out Program <<
30 Days to restore your mental and physical health

WHAT ARE THE BENEFITS OF A CLEANSE? 
Naturally boosts energy levels
Rids body of excess waste
Supports healthy weight loss
Boosts immune system
Glowing skin
Better breath
Promotes healthy habits
Clearer thinking
Improved hair health
Feeling lighter
Anti-ageing benefits due to free radical reduction
Improved sense of wellbeing
A Cleanse and Restore protocol can provide you with a powerful reset. An opportunity to look at your diet, exercise and lifestyle choices and consciously commit to improving the status quo over a 30 day period.
ARE YOU OPEN TO RESET YOUR MIND, BODY AND SOUL? 
Together we can achieve anything! Which is why we are hosting our April Healthy Inside & Out program. Using doTERRA's Cleanse and Restore Kit we will support each other to cleanse and detoxify our digestion and vital organs then rebuild our bodies systems using sustainable, long-term foundational building blocks.
Cleansing our internal body is an important part to a health reset, but it is not the complete picture. This is why we have pulled together a fantastic array of other offerings to support you to also reset the body, mind and the soul.
Complimentary services including: 
* A Green Smoothie Challenge to further support you to restore your gut and reduce inflammation in your body.
* Hypnosis for health & healing. Hypnosis can be a powerful gateway to health and healing, using your own inner intelligence.
* Break yourself free from the inner voice that tells you you're not enough, can't do it, should do better and embrace the real you with powerful life coaching sessions.
* Develop a 2 minute meditation practice with our no nonsense approach to meditation.
* Fall in love with yourself with 30 days of simple but powerful self love exercises.
>> Yes! Sign me up. I am ready to boost my health <<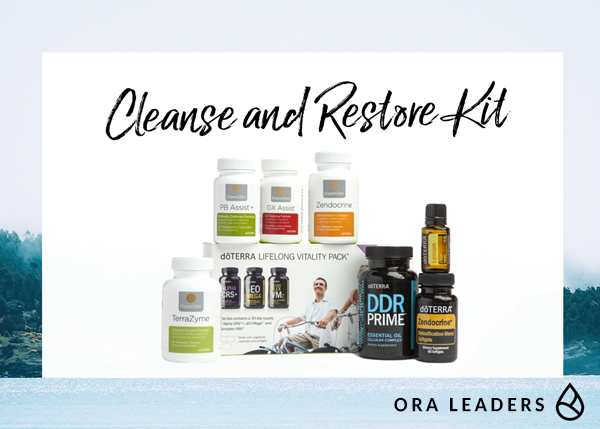 What's in the Cleanse & Restore Kit?
* DDR Prime Softgels – essential oil blend to support cellular health, function and renewal
* Terrazyme – blend of digestive enzymes to aid in the digestion of food and absorption of nutrients
* GX Assist – a combination of essential oils and caprylic acid to help cleanse and support the digestive system
* PB Assist+ – 6 billion CFUs of 6 different strains of probiotics plus prebiotic fibre in a unique, double-layer capsule
* Zendocrine Complex – botanical blend to support liver, kidneys, colon, lungs and skin
* Zendocrine Soft gels – essential oil blend to support the body's natural ability to rid itself of unwanted substances
* Lemon Essential Oil – naturally cleanses and aids in digestion
* LifeLong Vitality Pack – essential nutrients and powerful antioxidants to promote energy, health, and vitality
> Join our Healthy Inside and Out program today <<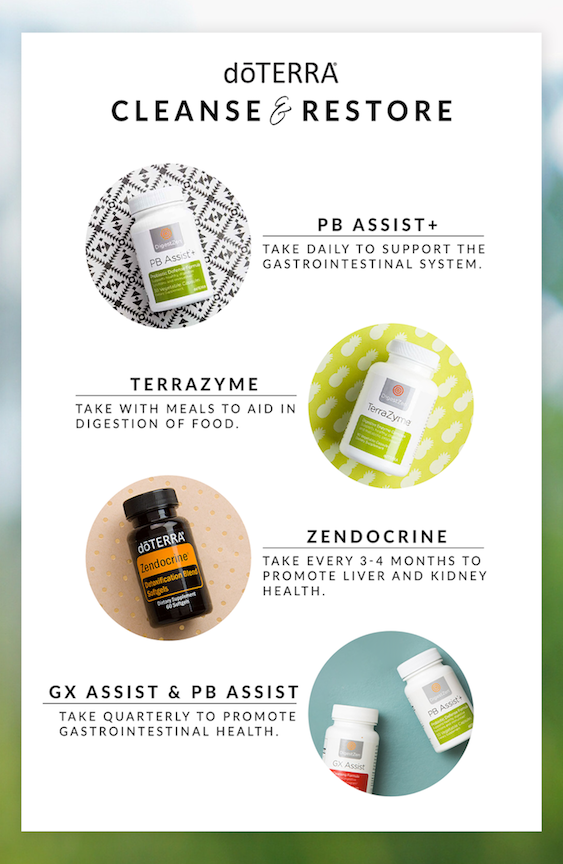 Healthy Inside & Out: A 30-day lifestyle program
Day 1 – 10, we're going to activate your cells,  open up your detox channels and start to release unhealthy toxins.  In Phase two (day 11 – 20) you will be hitting the "reset" button where you will be clearing out the physical system. Finally, day 20 – 30 is all about restoring your body.
In summary, you start your 30-day cleanse with the foundation of health using Lifelong Vitality. This will be used even after your cleanse. During this time you will also prime your body with Zendocrine. Next, the focus is on your GI health with the TerraZyme digestive enzyme. During the reset phase, the GX Assist goes in and kills the unhappy unhealthy gut flora followed by the PB Assist during your restore phase which repopulates and nourishes that garden.
During the restore phase, DDR Prime is also introduced to promote healthy cellular function. The cleanse is designed to support and detoxify your 5 detox channels including your kidneys, skin, lungs, liver, and colon. This is what it looks like.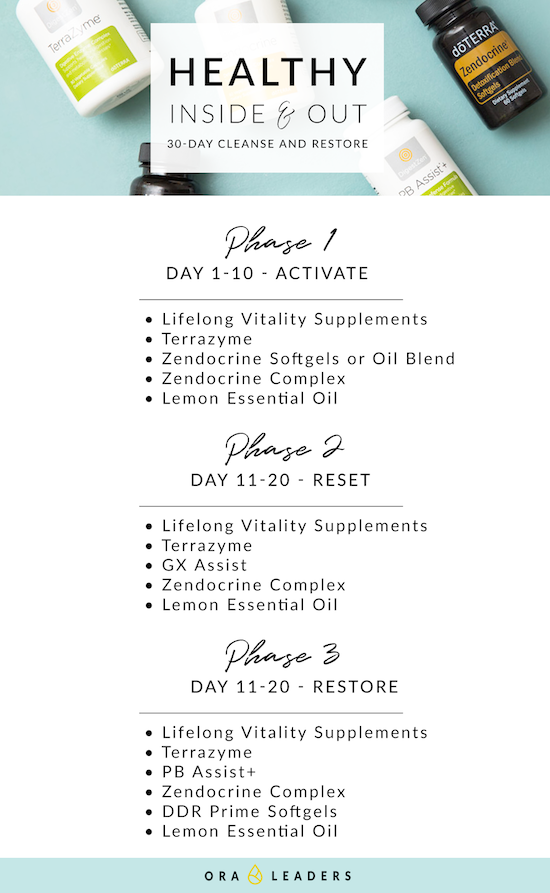 How do I get started?
1. Get your self the Cleanse & Restore Kit
If you are already a doTERRA member, it's really simple you log in to your account and purchase the Cleanse and Restore kit from the Wellness section of the doTERRA shop. We have worked out the cheapest way for you to do this and have written a BLOG with step by step instructions: The Cheapest Way To Order doTERRA Cleanse & Restore Products
Buying the kit is the cheapest and smartest way for you to get these products. If you were to buy each product separately it would cost you significantly,  but when you purchase it as a package you actually save about $100. Just another way doTERRA gives you incredible value.
2. Register for Healthy Inside & Out 
Click here to register for our free 30 day support program with access to life and health coaches, clinical hypnotherapist, child hood educators. Connect also with a community of like minded people who are committed to making a change.
Not a member?
If you have been sent here by one of our team please go back to them and they will help you to get started. Otherwise, you can become a wholesale customer for free and purchase your "Cleanse and Restore Kit" Here.
You will then save yourself $195!!!  Plus, you get free wholesale pricing from doTERRA with this kit which means anything you purchase from doTERRA for the next year will be 25% off retail!! No lock-in contracts, minimum orders or monthly purchase requirements Click here to enrol with doTERRA  (Psst! Use 4484139 as Enroller ID, so end in the right team: Ora Leaders).